Wednesday, December 4, 2013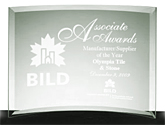 At this year's Annual General Meeting of BILD (The Building Industry and Land Development Association) Associate Awards were awarded to recognize companies who are highly rated within and by the building industry itself. We have listed below, in its entirety, the press release recently issued by BILD.
2013 is the third year that Olympia Tile + Stone has won the honour of Manufacturer/Supplier of the Year (first won in 2006, and second in 2009). Olympia Tile is the only company to have won this award more than once.
OLYMPIA TILE & STONE a big winner at BILD Associate Awards
Toronto, December 4, 2013 - The Building Industry and Land Development Association (BILD) is delighted to announce Olympia Tile + Stone as the 2013 Manufacturer / Supplier of the Year. The Associate Awards are handed out at the Association's Annual General Meeting at the end of each year in order to recognize companies who are highly rated by their homebuilder clients for quality and service as partners in the building process.
No stranger to the industry, Olympia Tile & Stone has been around for over 50 years, currently employing over 900 staff members while occupying a total of over 3.5 million square feet of warehousing. "Olympia Tile has always been ahead of the Game in this industry. They have been a great help with their service and promptness at addressing our concerns", said a dedicated client.
"I want to congratulate this year's winners and thank them for representing our association with professionalism, leadership and innovation" said BILD president and CEO Bryan Tuckey. "Our associate members are an integral part of the reason our industry continues to build quality, complete communities across the GTA."
A complete list of winners can be found at bildgta.ca.
With more than 1,300 members, BILD, formed through the merger of the Greater Toronto Home Builders' Association and Urban Development Institute/Ontario, is the voice of the land development, home building and professional renovation industry in the Greater Toronto Area. BILD is proudly affiliated with the Ontario and Canadian Home Builders' Associations.
Thursday, October 10, 2013
SLAB DIVISION
Effective OCTOBER 14, 2013, we have moved to 22 Dufflaw Road, which is just across the road from OLYMPIA TILE'S BUILDING (ON IT'S NORTH WEST SIDE).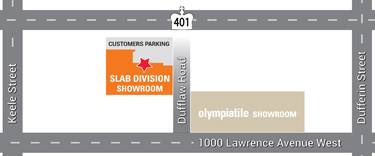 Tuesday, February 19, 2013
1. Tile Showroom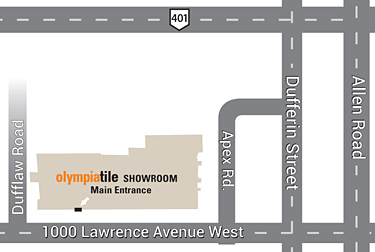 1000 Lawrence Avenue West, Toronto, Ontario M6A 1C6
T: 416 785-6666 F: 416 785-9682
Email: info@olympiatile.com
Business Hours:
Mon - Wed 8:00 a.m. - 7:00 p.m.
Thursday 8:00 a.m. - 9:00 p.m.
Friday 8:00 a.m. - 5:00 p.m.
Saturday CLOSED
Sunday 10:00 a.m. - 5:00 p.m.