Friday, July 15, 2016
Wood has a natural warmth and appeal that many other materials do not. Initially only appearing in the homes of wealthy families, these floors used to be painstakingly created using hand-cutting processes. Though unquestioningly warm and beautiful, wood floors have accompanying issues: wood planks can crack and separate, they can cup (center dips lower than the edges), they can crown (center is higher than the plank's edges), buckle, and more. Moisture, time, and temperature changes have detrimental effects on natural wood floors over time.
Luckily today, with modern technology, we have such high powered printing and imaging capabilities that we can replicate the most beautiful wooden patterns on other materials, such as porcelain. Wood-look porcelain tile will possess the look and feel of wood, along with other advantages:
Less prone to scratches, cracks, dents, and chips

Easier maintenance

Outdoor applications (the durability of porcelain tiles allows for effective outdoor applications)
There are also considerable advantages when it comes to choosing a wood-look tile: you will have more selection in terms of colours, sizes, grains, mixed materials, and finishes.
Take a look below at the selection of gorgeous wood replica collections we have available at Olympia Tile.
This collection is named after an ancient Japanese technique consisting in the carbonisation of wood planks making them waterproof and fireproof, still used in modern architecture. This technique is re-interpreted through our Yaki collection which is rectified, available in four colours and two different surfaces.
Simple and elegant wood replica available in five natural colours . For residential walls and floors; as well for commercial walls and generally heavy traffic wear floors.
Inspired by the concept of wood dried by the sun, this rustic wood replica gives a vintage feel, stocked in 48" planks.
Wood effect porcelain stoneware series that plays with colours and decorations in a unique painted wood look.
Noon is a series of unglazed porcelain planks with a warm and contemporary wood look. The aged wood replica is available in 5 colours, 2 surface finishes and also offers chevron cut planks.
Tuesday, June 14, 2016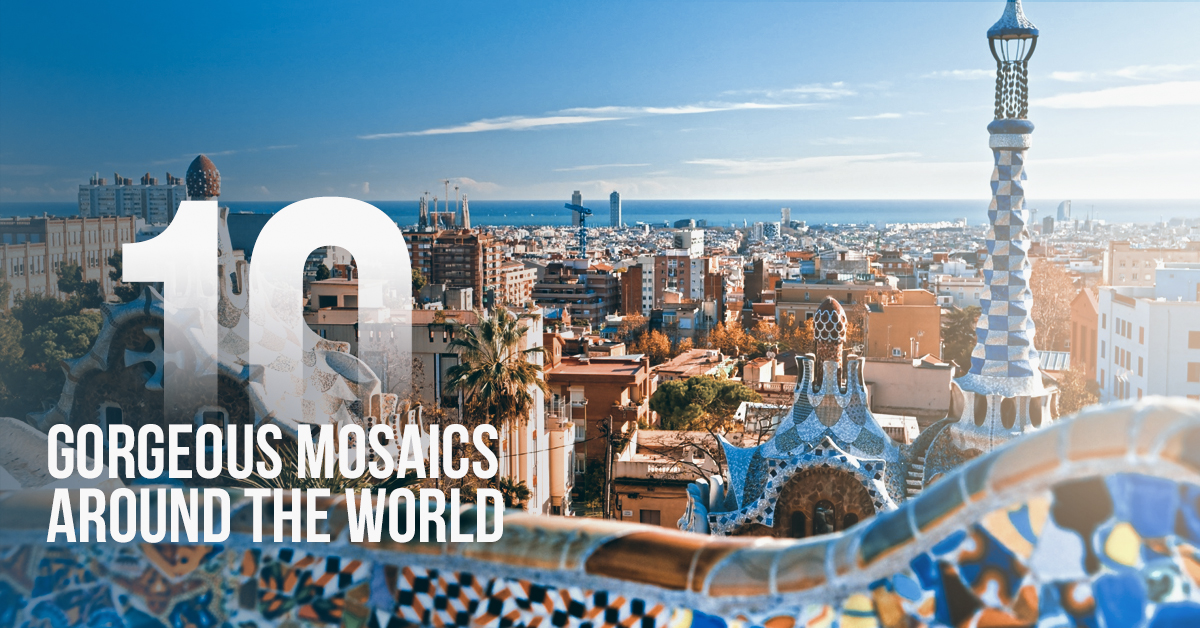 Aristotle is credited with the idea that 'the whole is greater than the sum of its parts', it certainly holds true when we look at mosaics. Mosaics refer to the art of creating images or patterns by assembling small pieces of glass or stone. Here we look at the world's most beautiful mosaic creations, we hope they inspire your future creations and use of mosaics in your space.
Guell Park, Barcelona
This magical park in the city of Barcelona is a masterpiece by Antoni Gaudi. We highly recommend you visit this unforgettable natural paradise, there are lots of mosaic-covered structures throughout.
Pic source: Joo Chiat
St. Peter's Basilica, Vatican State, Italy
A mammoth of a structure, everything about St. Peter's Basilica will blow you away. Remember when you're looking up that each one of the paintings you see is actually a mosaic. Take a tour of the great dome to get a closer look at the painstakingly detailed work of art.
Pic source: Lux Life
Great Mosque, Corduba, Spain
A great example of Moorish architecture, the great mosque/cathedral of Cordoba features a variety of coloured mosaics.
Source: Persian Visual Arts
Tomb of Hafez, Shiraz, Iran
If you ever get the chance to visit this structure, remember to look up. The underside of the dome here contains an enamelled tile mosaic.
Source: Wikimedia Commons
Cathedral Basilica of St. Louis, St. Louis, Missouri
One of the world's largest mosaics is housed in this cathedral. Made up of over 41 million individual pieces, it took over 76 years to complete!
Source: Stephen Travels
Copacabana beach, Rio de Janeiro, Brazil
Designed by Burle Marx, this gorgeous sidewalk is right on the beachfront of Copacabana Beach.
Source: Viajante
Mosaic staircase San Francisco, USA
This beauty was created with the help of over 300 volunteers. Lead by Irish mosaic artist Colette Crutcher, you can see this gorgeous mosaic staircase in San Francisco.
Source: Yelp
New York City Subway
You don't always need to travel across the ocean or go to a museum to see mosaic art, if you are ever in the Big Apple, just head underground to see intricate works of mosaic art.
Source: Artaic
The Great Pavement, Westminster Abbey, London, England
If you have a particular affinity for interiors, you may have noticed that during the last royal wedding - held in the Westminster Abbey - that the newlyweds walked on a great mosaic floor. The floor is referred to as the Great Pavement, it's the area right by the High Altar, commissioned by Henry III.
Source: Weiner Elementary
Pavilion Hall, State Hermitage Museum, St. Petersburg
Not native to Russia, the floor mosaic in this hall is actually a replica of a mosaic unearthed at the ancient Roman bath in Ocriculum, Italy.
Find more mosaics from around the world on our Pinterest board.
Tuesday, May 31, 2016
A brief history of mosaic tile
For thousands of years, mosaics have been used as forms of expression and visual storytelling, dating back to antiquity. They were used in a variety of settings, as decorative features of Middle eastern and Mediterranean villas, temples, shops, bath houses, churches and mosques.
The production of mosaics appear independently in a number of cultures around the globe. The earliest known mosaics are Chinese, they appear in the form of carefully arranged pebble-paved mosaics. Around 800 B.C, the Greeks began producing pebble mosaics, their designs were originally geometric, usually following rug patterns.
The Romans ventured into mosaics by first mimicking existing mosaic designs, but once they mastered that, they started innovating. Telling stories through intricate geometric patterns, depicting wars, stories of the gods, and scenes from everyday life.
Adding mosaics to your space
Want to integrate the timeless beauty of mosaic into your space? We have a variety of gorgeous mosaic tiles to choose from. See some of our favourites below:
Mosaics now come in all shapes and sizes! Our stunning hexagon marble mosaics are available in a variety of textures, making for a truly unique pattern in any installation.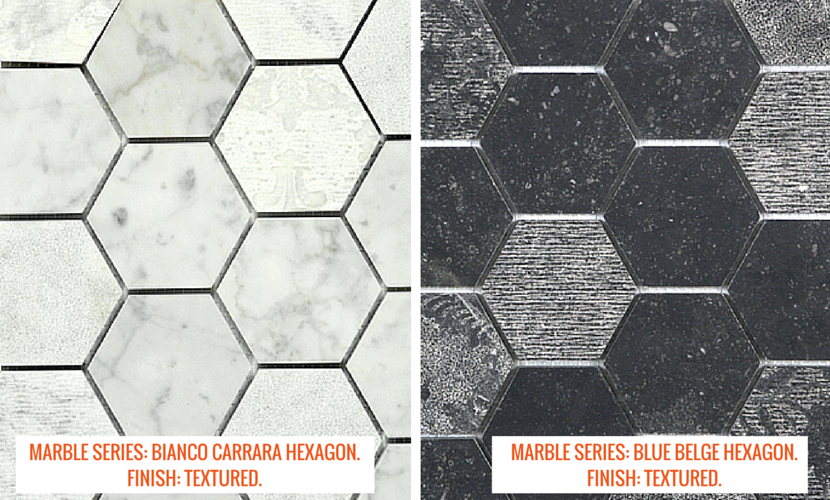 Our lovely Mother of pearl, this blend mosaic has best of both worlds, modern glass and classic marble.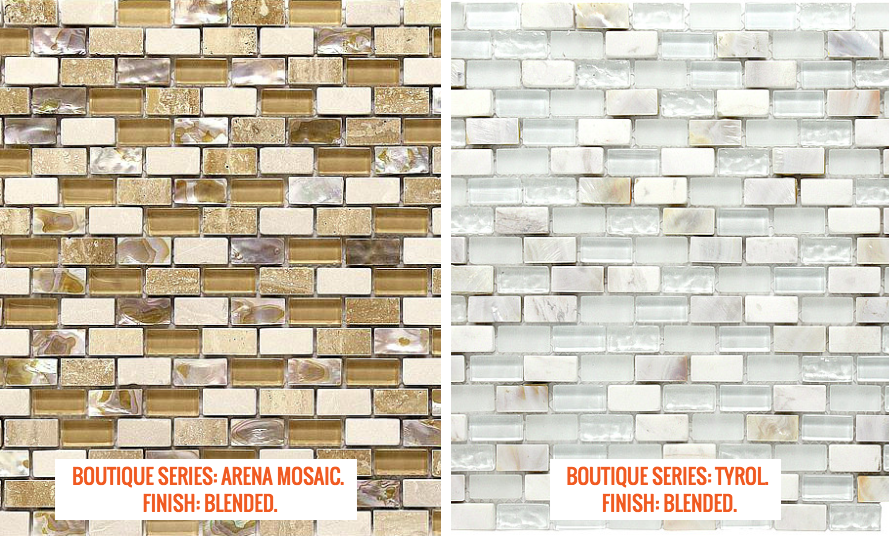 Beautiful glossy mosaic tiles from our Murano series are mesh-mounted, with a mixed pattern of pearlescent and metallic mosaics. Great for residential or commercial wall applications. Available in 4 great colours.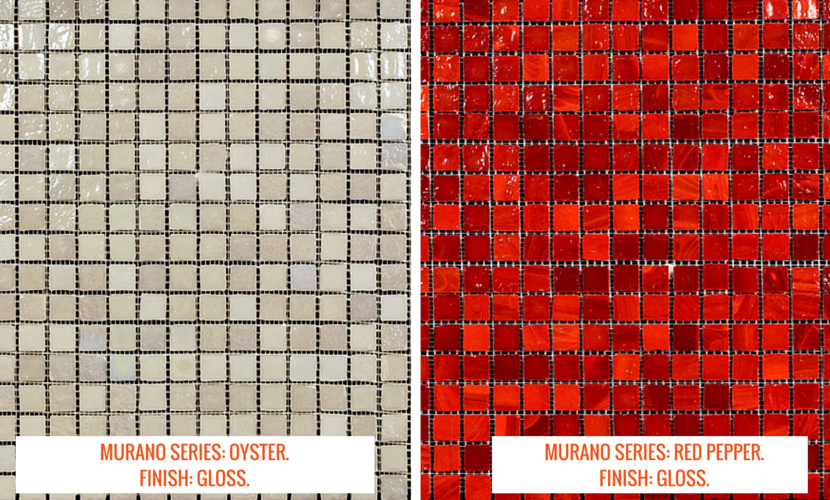 A brand new series, featuring an unusual 3D diamond mosaic pattern, available in 2 great contemporary colours: Snow White and Tender Grey. Great for residential and commercial wall applications.