Monday, August 7, 2017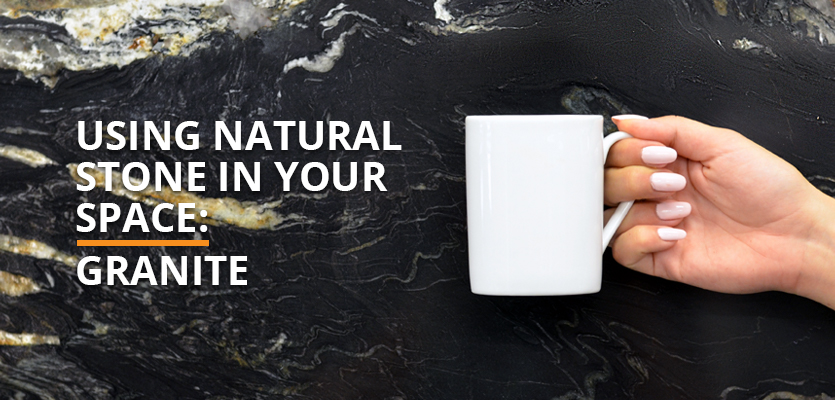 This blog post is part of a series of posts on using natural stone in your space, you can read the introduction here.
Granite is one of the most popular stones on the market, the majority of which is extracted from China, India & Brazil. At the top of architects lists, it's resistant to abrasions, durable to weathering, and extremely strong. Most granites are great for many interior or exterior applications, including floors with heavy traffic and countertops. The only natural stones harder than granite are diamonds, rubies, and sapphires. Granite is resistant to heat, scratches, and stains. As with any stone, however, sealing is highly recommended. Granite is commonly used to face commercial and institutional buildings and monuments. It is also a good material for fireplaces, steps, terraces, and pavers for public spaces. Granite is the traditional favorite for countertop installations due to its unique colours and patterns, durability and lasting value.
Granite tile can be stained by grout during installation - especially the lighter coloured ones. Sealing stone and tile before grouting will make the grout clean up much easier. At the same time, the sealer protects against oil and water based stains. MORE Surface care options: Stone Enhancer, Premium Stone Enhancer. If staining has occurred, restorative cleaning may be required to bring your existing natural stone or tile surface back to looking new. Being able to identify the problem will help you to choose the right restorative cleaning product.
A very hard and durable stone with low porosity, Granite requires a relatively high latex content bond coat. Flextile 56SR, 61 are both suitable for most Interior installations, whereas Flextile 51/44 and 58XT Fast Set two-component latex mortar systems are recommended for Exterior applications. Granite may be grouted with Flextile 600/1600 Sanded Grouts or 500 Unsanded Grouts (for joints less than 3 mm only) or ColourMax Urethane Grout. Pre-sealing or application of Grout Release is recommended to prevent staining.
Explore some of our favourite granite products below
Granite slab: Blue Bahia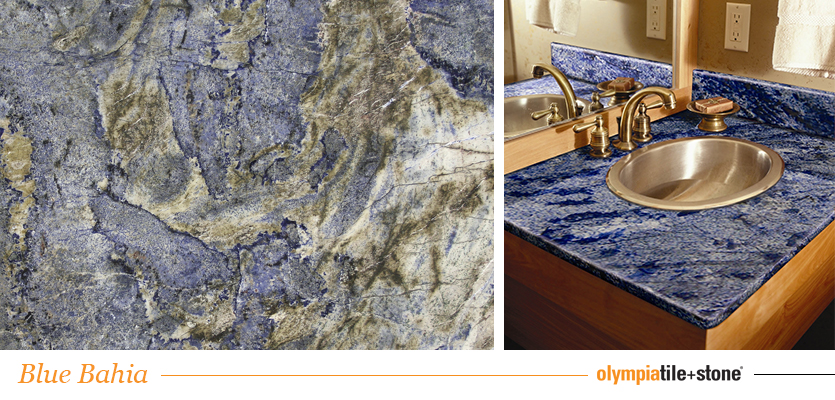 Granite Slab: Negresco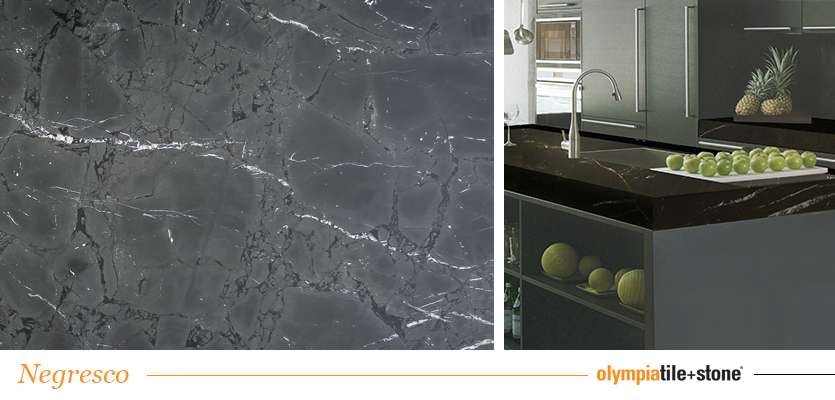 Granite slab: Netuno Bordeaux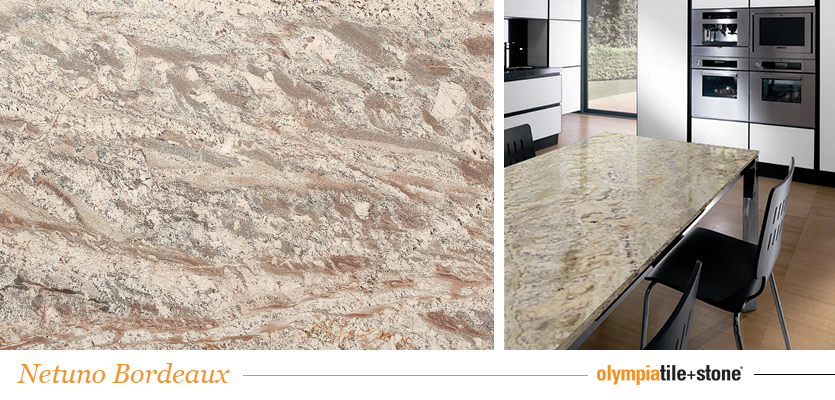 Granite slabs: Persa Avorio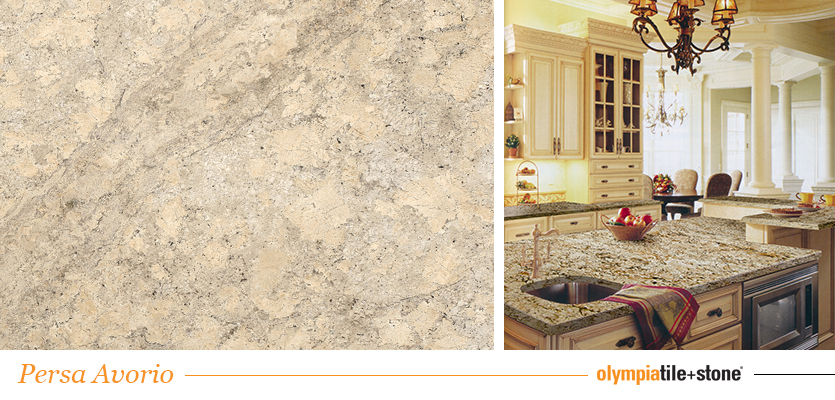 Granite slab: Roma Imperiale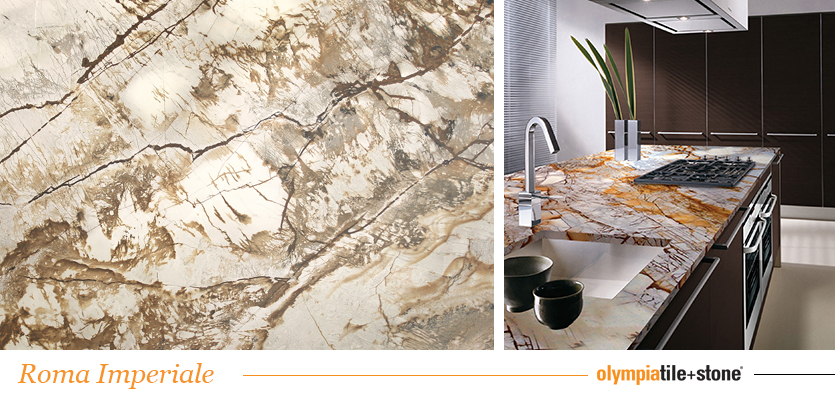 Granite slab: Siena Bordeaux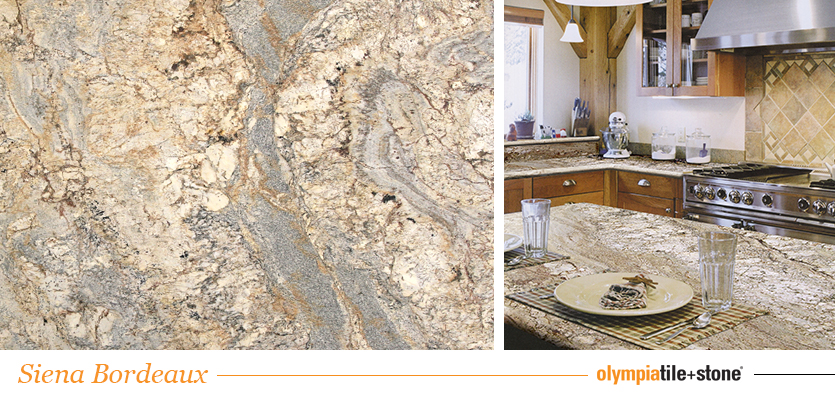 Find more natural stone inspiration on our Pinterest board dedicated to natural slabs and tiles.
Monday, July 17, 2017
Contemplating using natural stone in your next project? Let us help you explore the benefits of using Mother Nature's product in your space.
Natural stone has been used in the building industry for centuries. Its timeless beauty, as well as suitability in a variety of applications, make it a great choice for your space. Natural stone comes in many forms and can suit both traditional and contemporary settings. Natural stone has a place in trendy minimalist spaces as well as areas with a more classic design. It is unique and simply cannot be recreated by man-made material. Each stone has its own characteristics.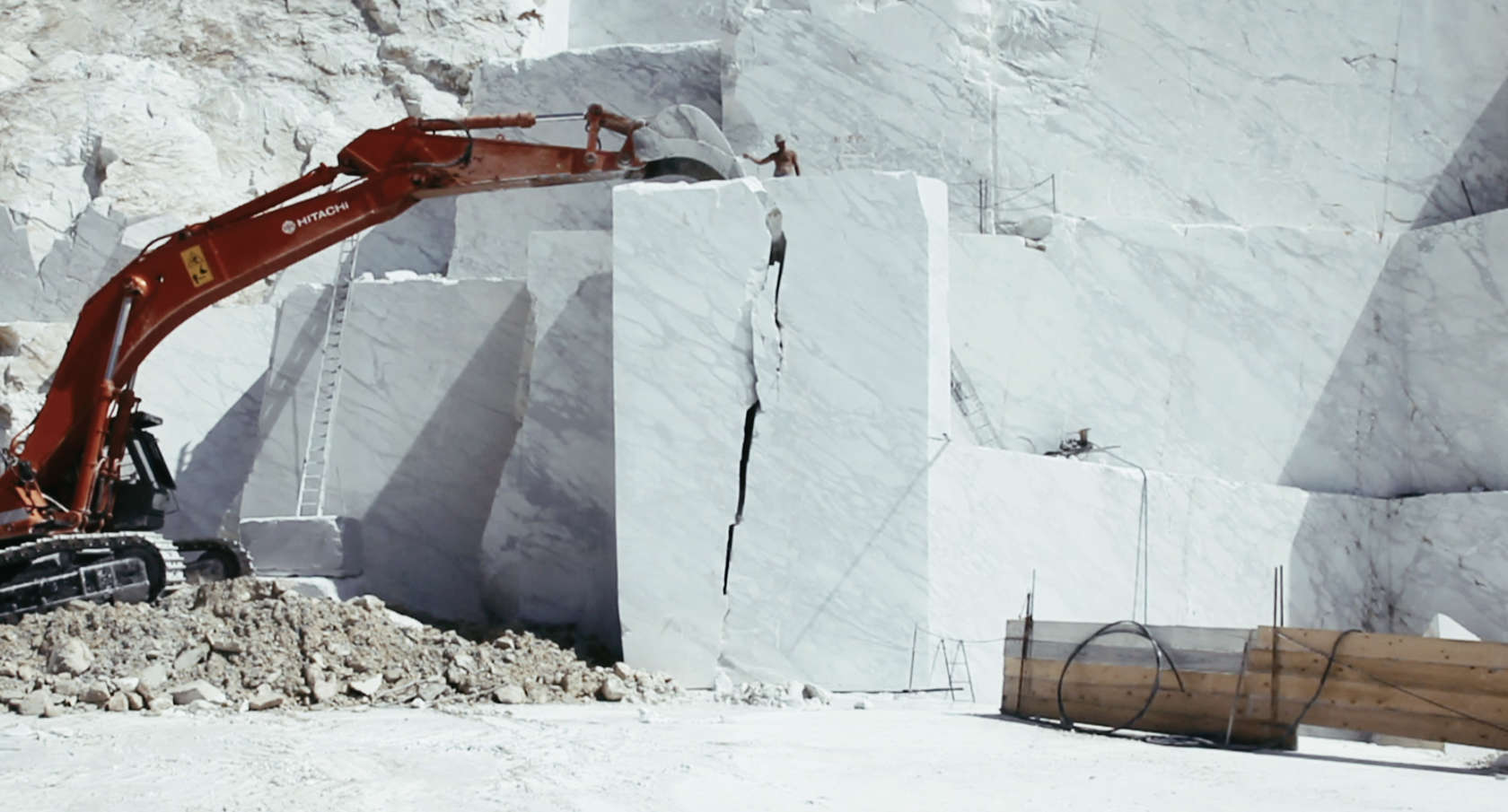 Image is a still from "Il Capo", a film by Yuri Ancarani exploring the process of extracting marble from quarries in the Italian alps.
You may have noticed that natural stone can be more expensive than its synthetic counterparts. This is typically due to to the labour, time and resources applied to extracting the stone. Demand also plays a significant factor in the cost of natural stone. For example, our beautiful Carrara stones — Statuario, Calacatta, Statuarietto, and Bianco Carrara—are in high demand, which naturally drives up their price, since only a limited quantity can be extracted from the select Italian quarries that supply these marbles.
How to choose a natural stone tile
Aside from the price, a stone tile is different from a ceramic or porcelain tile in terms of its appearance and composition. Customers should be aware of the natural variations that exist in stone. Pay particular attention to the movement, or veining, in the stone and its colour range. Some stones have linear veining like the Bianco Wood marble pictured below. Others have more random movement, like our Silver Shadow marble (see below). Some slate and marble have a wide variation of colour – for example our Multicolour Peacock slate and Calacatta Manhattan marble can vary significantly from one piece to another. We recommend you always see 3 or 4 full pieces or view a full sized slab before making a final purchase.
In our showrooms, we try to display each stone so you can see its natural movement but as it happens, there are variations from one shipment to the next, so the stone may change slightly. This is, after all, part of the beauty of natural stone; no two pieces are exactly alike, each is entirely unique.
Monday, March 13, 2017
Natural stone and ceramic tiles are a lovely choice for backsplashes, but why not explore the wonderful world of glass tiles? Deviate away from traditional tile looks and consider the beauty a glass backsplash or feature wall could add to your space. In addition to being incredibly eye-catching, glass tiles are a low maintenance choice; they are durable, do not stain, and are easy to keep clean. The selection of glass tiles at Olympia Tile is available in many colors, shapes, patterns and finishes, allowing you to create a look that's truly unique. Find some of our favorite glass tile collections below.
Cristallo Series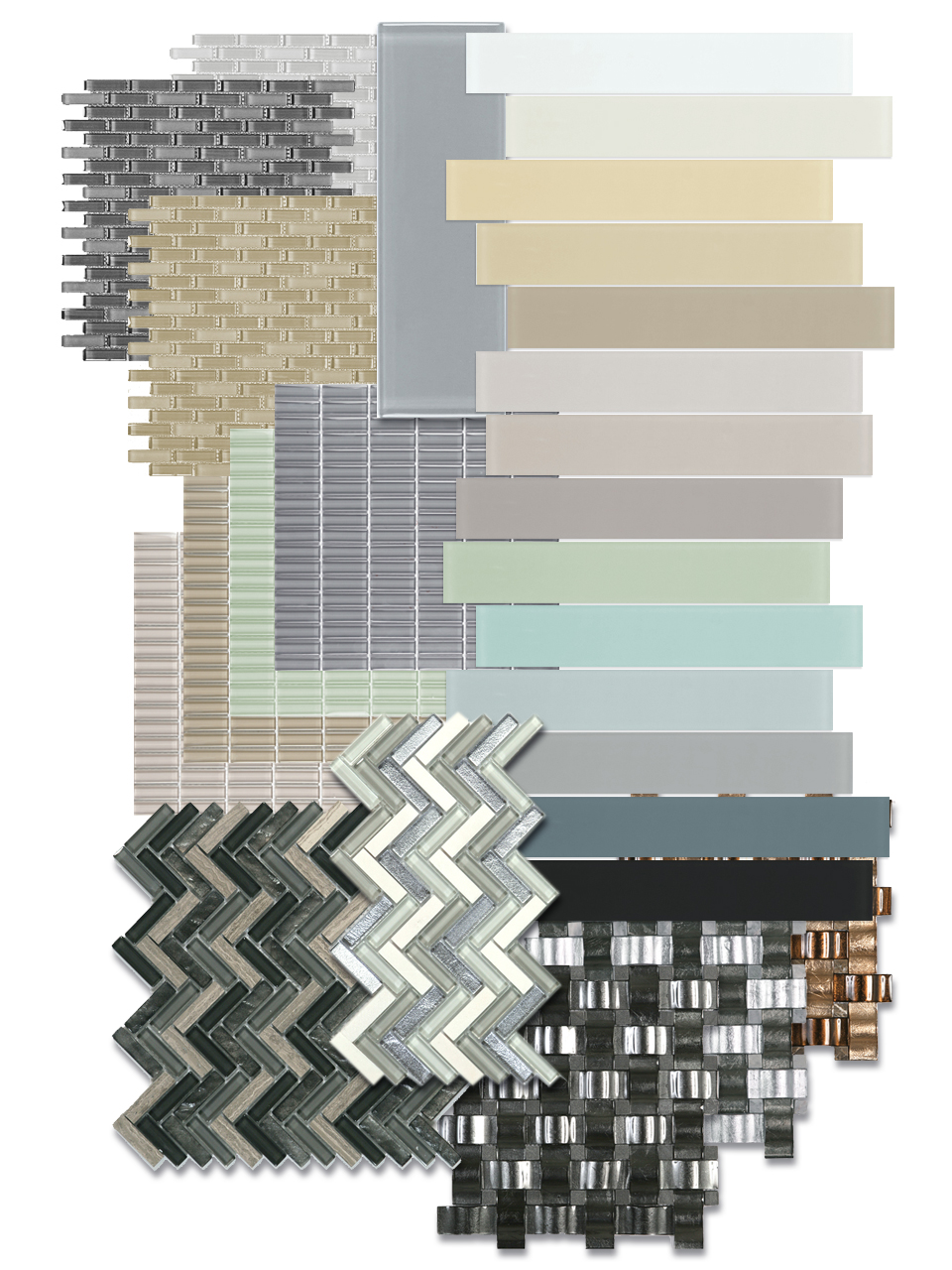 Adding a pop of excitement to a space is a breeze with our Cristallo Series. It's comprehensive collection of glass subway tiles and mosaics, available in matte, glossy and blended finishes, with an assortment of colours ranging from super white to bottle green. You will find a variety of sizes stocked, including 2"x12" to 3"x6" and 4"x16", providing you with endless design options. Having a pop of colour from our Cristallo Series will help you create a look you love. Where can you add the Cristallo Series? Its colourful subway glass tiles can be used in a backsplash, as a border mixed into a porcelain tile pattern, or to highlight an area of a wall.
A unique variation of our Cristallo Series is our Cristallo Blends series, with this series it's easy to attain a trendy yet unique look. One great option is a contemporary yet classic look achieved by creating a colourful herringbone mosaic pattern, featuring a mix of glass and stone. Or try a more edgy look with our 3D Cristallo mosaic, a rare collection of 3D glass and stone mosaics with foils, creating a metallic appearance. These pops of colour will break up a neutral wall color, brightening up an otherwise dull room giving your guests something to talk about.
Jewel Series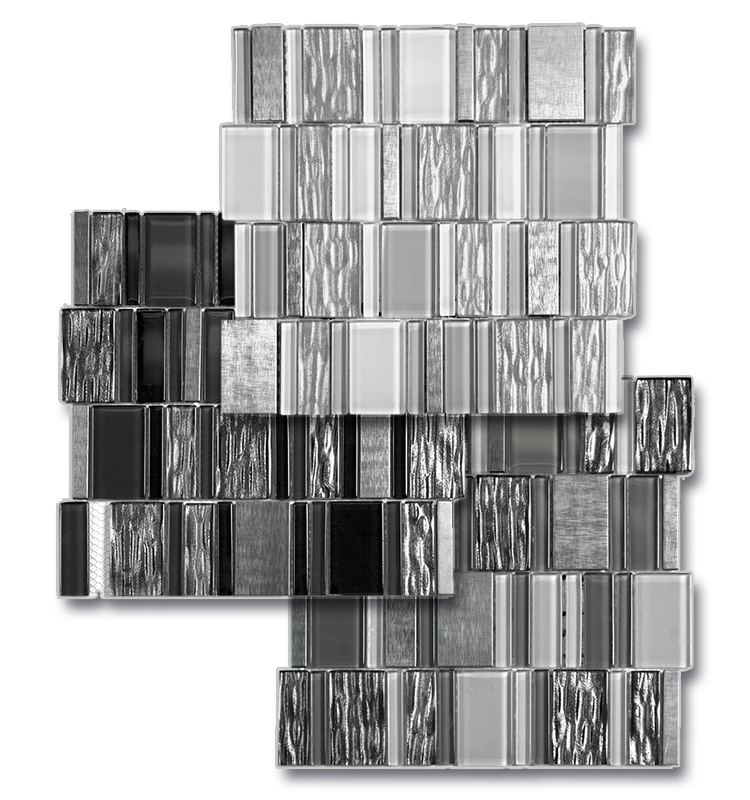 This collection features glass mosaic with metallic elements, it's great for any room and has that coveted modern feel to it. Our Jewel Series is perfect for highlighting a special spot in a room, this mosaic tile is combined with aluminum mosaic chips and it comes in 3 great colours; black, grey and white. Offering a very contemporary vibe, these fantastic metallic finishes give a truly fashionable look to any space in the house, providing a long lasting alternative to other wall materials, and giving any room a charming look.
Marble and Glass Mix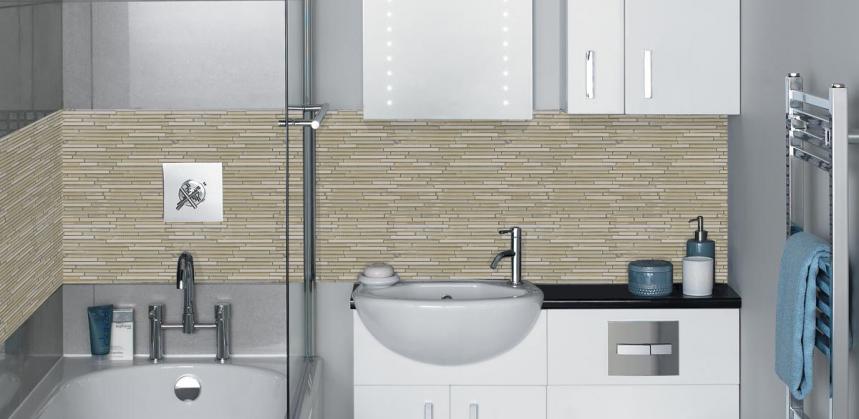 Looking for an eye-catching glass mosaic? Our Marble and Glass Mix series offers a simple design twist that blends different shades, materials and finishes. Featuring linear patterns and pencil mosaics that use the combination of glass and natural stone for a truly elegant look. These captivating mosaics provide a lovely colour combination that transform a room from lifeless to unforgettable. Our Interlock Glass Marble Decors and our Irregular Brick Patterns Blends mosaics are the perfect blend of beautiful traditional stone and contemporary glass. The natural stone adds a classy element to the design, while a mix of soft and bold colours create an unforgettable overall pattern.
Diamond Hexagon Series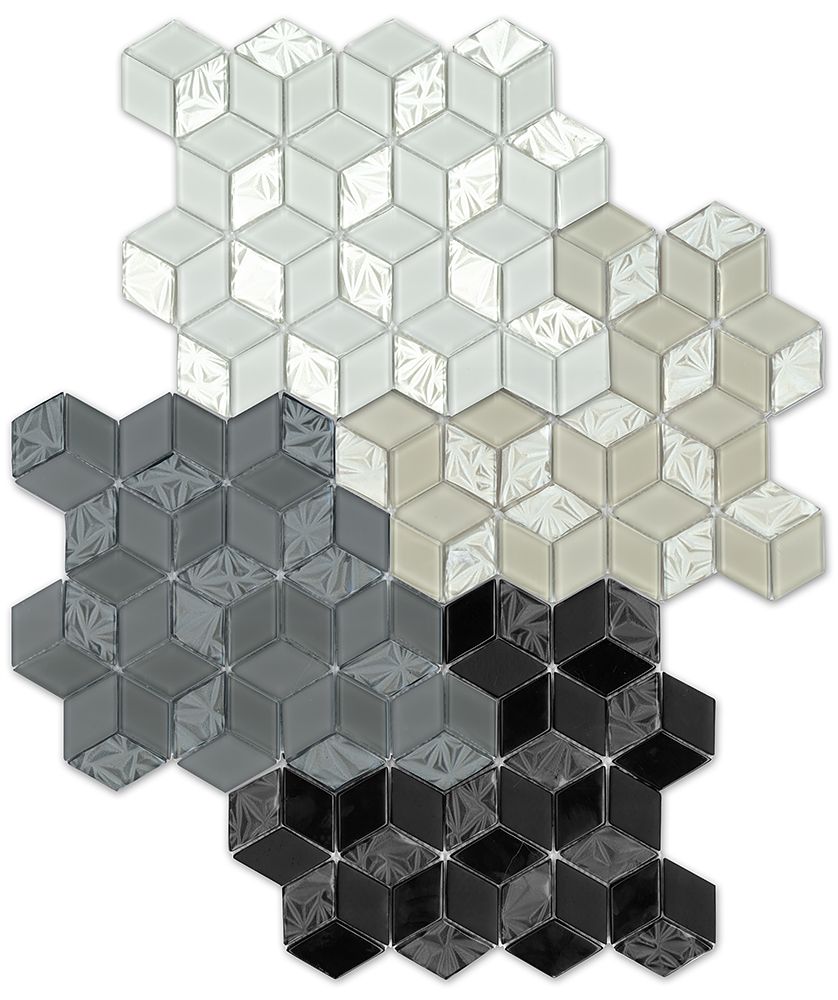 The Diamond Hexagon series is a new glass series featuring a unique glass mosaic that combines 3 different finishes: matte, glossy and metallic to create a contemporary pattern. This series allows you to create unique designs that express your imagination. Glass tiles have caught on in the interior design world, as new technology allows us to work with unique textures, pretty colours and the natural durability of glass. Check out the Diamond Hex series to create stunning displays that will leave a lasting impression.
Looking for additional inspiration around glass tiles? See our Glass Tile Pinterest board.